Our online store supplies a range of products to compliment your treatment, or to indulge in at your leisure.

Himalayan bath salts are an ancient salt that is the purest form of salt available, as it that has no preservatives or additives and is not processed with harsh chemicals instead they are a result of millions of years of compression under the Earth's surface.
Also Known as Himalayan Rock Salt, this salt is hand-mined and harvested from ancient salt beds, deep under the Himalayan Mountains. It's rich in over 80 minerals and trace elements, some of the most notable being calcium, magnesium, potassium, copper and iron.
For therapeutic purposes, they can be used to relax the body, stimulate circulation, soothe sore muscles, and remove toxins. Reputed to balance electrolytes, support proper nutrient absorption, eliminate toxins, balance the body's pH, normalises blood pressure, and increases circulation and conductivity, it also assists with relief from arthritis, skin rashes, wounds, and flu and fever symptoms.
Even though it is commonly described as 'Pink' its actual colour can vary from a reddish to pink, with some crystals having an off-white to transparent colour.
This salt is supplied from the Himalayan Mountains.  It will attract moisture so it is recommended to keep the bag sealed.
This product is sold as a bath salt and not for internal use. If you have any concerns or doubts about using Himalayan Sea Salt consult your doctor.
Recommended use:  Add approximately 200-300g (4-8 scoops) of Himalayan Sea Salt to your bathwater and enjoy an invigorating soak.
Coarse grain, size 2mm-4mm (so dissolve before getting in).
These Himalayan salts come packaged in a beautiful natural jute bag with a delightful little scoop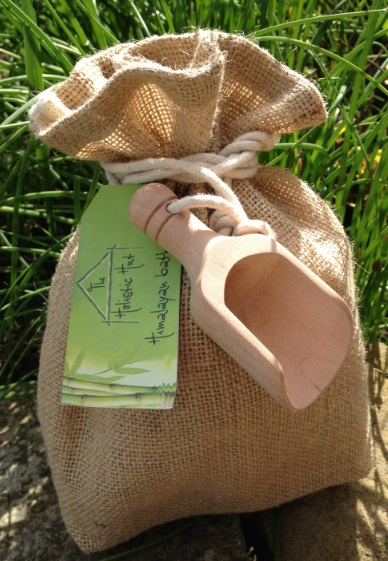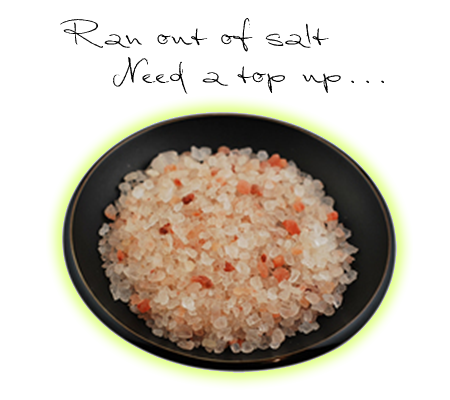 Dead Sea Salt is literally salt from the Dead Sea.  It is far higher and richer in minerals than ordinary salt and famous for its healing and therapeutic qualities. It offers significant benefits to people with skin problems, and it is often recommended for dry or sensitive skin, and psoriasis.
The Dead Sea is the most saline body of water in the world with far greater concentrations of minerals than any ocean (a concentration of 32% minerals compared to other seas, holding approximately 3%).
Bromides and Iodine are present in Dead Sea Salt, including other minerals in a dried form, such as Magnesium, Sodium, Calcium and Potassium. All these minerals work together as regulators of cell activity and daily functioning, relieving muscular pain and stabilising fluid levels in the body.
The rough (course) nature of the salt lends itself to skin scrubs (exfoliation) and can also be used with Epsom salts (magnesium sulphate).
Dead Sea minerals include:
Magnesium Chloride (between 31% and 35%)
Potassium Chloride
Sodium Chloride
Calcium Chloride
Bromide
Sulphates
Insolubles
This salt is supplied from Israel.  It will attract moisture so it is recommended to keep the bag sealed.
This product is sold as a bath salt and not for internal use. it is suitable for young children,  But if you have any concerns or doubts about using Epsom Salt consult your doctor.
Recommended use: Add approximately 200-300g (4-8 scoops) of Dead Sea Salt to your bathwater and enjoy a relax soak.
Coarse grain, size 1mm-4mm. (so dissolve before getting in).
These Dead sea salts come packaged in a beautiful natural jute bag with a delightful little scoop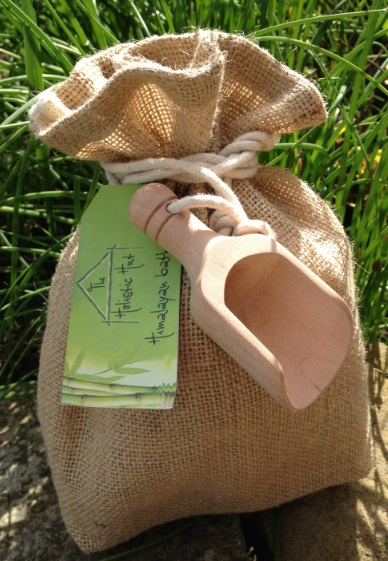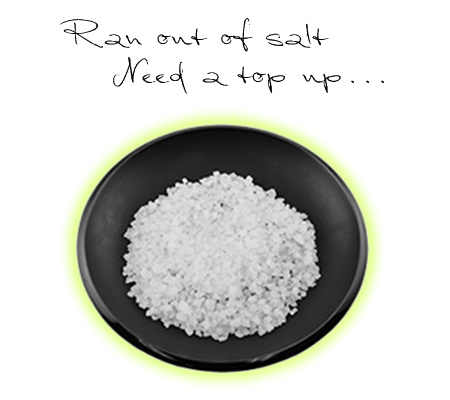 The salt in Epsom creates a high-mineral content that duplicates the benefits of a hot spring. It is a chemical compound containing magnesium and sulfur.
Epsom Salt is said to have anti-inflammatory properties and when it is absorbed through the skin, such as in a bath, it draws toxins from the body, sedates the nervous system, reduces swelling and bruises and relaxes muscles.
Epsom Salt can also be used for natural exfoliation to remove dull and dry skin cells, making the skin refreshed and rejuvenated. It is considered to do wonders for the hair, absorbing the oil from greasy hair.
This Epsom salt is FCC Grade (previously known as BP grade) and therefore of the highest quality.  It is sourced from the biggest supplier of Epsom Salt in Europe, who still mine their Epsom Salt.  So it is not chemically made as other salts sourced outside Europe may be. The salt will attract moisture so it is recommended to keep the bag sealed.
This product is sold as a bath salt and not for internal use. If you have any concerns or doubts about using Epsom Salt consult your doctor.
Recommended use: Add approximately 200-300g (4-8 scoops) of Epsom Salt to your bathwater and relax for at least 15 minutes.
Coarse grain, size 1mm-4mm. (so dissolve before getting in).
These Epsom salts come packaged in a beautiful natural jute bag with a delightful little scoop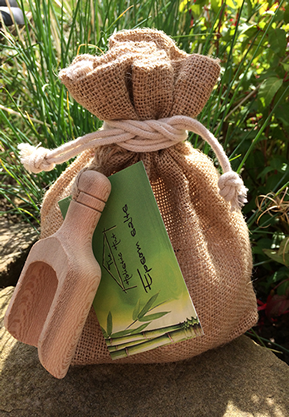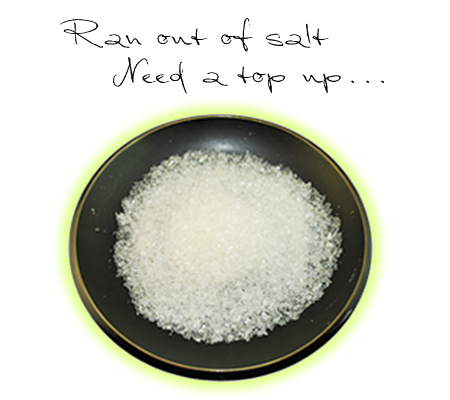 These gorgeous bath salts come in a cute glass jar with a little spoon attached. These have an added benefit of being infused with healing crystal properties. The salt has many health benefits (see below). Another feature is the glass jar can be re-filled and re-used time after time again.
Experience wonderful healing properties as you immerse yourself in a salt bath infused with crystal energy.  You will have all the benefits of a Himalayan salt bath but with the additional benefit of the vibrational crystal properties as they are gently released.
Salt bathing is a gentle, age old method of relaxing and refreshing the body through immersion in warm, salted water.  It is a simple and effective way to absorb natural minerals and feel their re-energising effect restoring body functioning back to its optimum level.
Himalayan salt is pure and natural, harvested from mineral rich ocean waters that dried up and crystallised 250million years ago. These naturally pink, pure crystal salts are mined from deep inside the pristine Himalayan mountain range.
The salts contain, 84 essential minerals found in the human body, including iron which lends the soft pink hue to the salt.
These minerals are readily absorbed by the skin and have highly reputed benefits including:
Excellent detoxifying properties
Extensively used as a natural healing treatment
Improved circulation and removes toxins
Relaxation - deeply soothing and restorative
Combination boosts the healing properties of both the salts and the crystals
Moonstone
As ancient as the moon itself, Moonstone holds the power of mystery.  Its secrets are locked beneath a pearly veil, and with them, our own hidden truths.  Only within its reflected light can we begin to understand what it has to teach us.  Moonstone is foremost a talisman of the inward journey, taking one deep into the self to retrieve what is missing.
A shimmery, almost translucent stone, some of its properties include:
Deeply relaxing, soothes and restores
Provides deep emotional healing
Soothes and stabilises our emotions clearing stress, tension and anxiety
Allows reflection on our experiences with objectivity and diffuses strong emotions that might be holding us back (reminds us that everything is part of a cycle of change)
Encourages calmness
For 'new beginnings', a stone of inner growth and strength.  It allows us to see our hidden talents and accept who we really are
Aids the digestive system, increases assimilation of minerals and vitamins in the body
Eliminates toxins and fluid retention
Stimulates the pineal gland and balances hormonal cycles, helps with PMS, conception, pregnancy, childbirth, breast-feeding and menopause
Strongly connected to the moon and intuition
Aids peaceful sleep
Weight Approx: 210g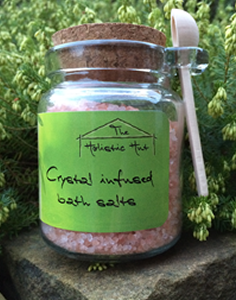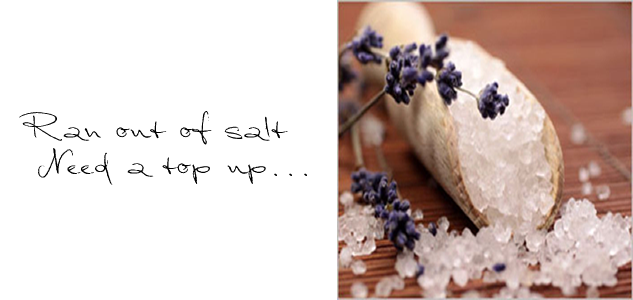 Crystal Infused Bath Salts - Refills
Obsidian
Obsidian is a naturally created glass, formed form volcanic lava that has cooled too quickly for significant crystallisation to occur.  It is a powerful grounding and shielding stone that protect us from negative energies.
Grounds your energy while shielding you against negative energy
Cleansing, healing and grounding to aura field and chakras
Clears the mind of confusion
Promotes self-discipline and compassion
Helps us let go of our self-imposed limitations
Assists us in seeing the cause of problems and disease.
Eases pain and improves blood flow
Very nurturing and in periods of intense change and transformation
Relieves worry, anxiety, fear and negativity
Increases awareness and dispels illusions so that we are able to be more grounded in day to day reality
Strongly protective, forming a shield against negativity
Draws out mental stress and tension, (bring up the reason for that stress)
Stimulates growth on all levels, urges exploration of the unknown, opening new horizons
The energy of this stone is long lasting and penetrates deep into the body and surrounding energy field (aura) its qualities are one of a kind.
Weight Approx: 210g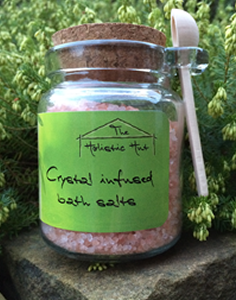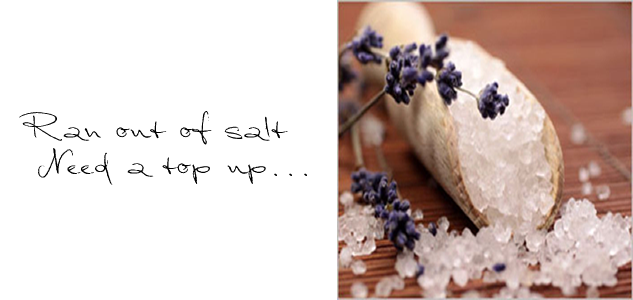 Crystal Infused Bath Salts - Refills
Carnelian
Carnelian is both an energy booster and a stabiliser, too.  It increases the energy flow in any space (or for anybody) in a positive and calming way.  It is a joyful stone that feels very secure in its essence and transmits the same warmth, protection and inner security to its surroundings.  Carnelian has courage, confidence and creativity at its core, all these qualities being combined in a calm and grounded kind of way.  Known as a stone of motivation and endurance, leadership and courage.
Inspires us to achieve
Dispels fear and apathy... allowing inner peace
Creative and amiable it helps with depression and grief
Strengthens our decision making and resolve
Gives courage and confidence to move forward on a new path
Stimulates ambition and drive... aids with manifesting
Great for lower back problems, rheumatism, arthritis and fertility problems
Encourages confidence and inspiration
Grounds and anchors you in the present reality
Excellent for restoring vitality and motivation
Protects against fear, rage, resentment and envy, banishes sorrow
Calms anger and banishes emotional negativity
Weight Approx: 210g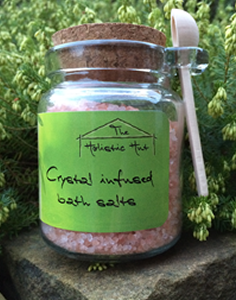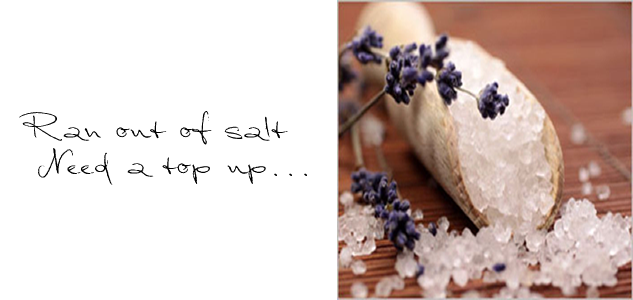 Crystal Infused Bath Salts - Refills
Celestite
Great for bringing mental calm and clarity in the midst of any chaotic circumstance, allowing an easier passage through a traumatic period.
Also known as 'Celestine', derived from the Latin word meaning 'heavenly'.  Celestite has a lovely gentle uplifting high vibration that is imbued with divine energies.  It can help you contact the angelic realms.
Great for bringing mental calm and clarity in the midst of any chaotic circumstance, Celestite can allow one to easily flow through a traumatic period and still come out on top.
Has a wonderful sensitive and calming energy, that brings calm and clarity
Uplifting quality - lifts heavy moods and sadness
Eases stress in the physical body especially if brought on by worry
Soothes the nerves and helps to release emotional, mental and physical blocks in our energy fields
Eases problems of the central nervous and respiratory systems
Its uplifting calming and expansive energy is great for contemplation and meditation
Sharpen the mind, dispersing worries and promotes mental clarity
Promotes purity of the heart and attracts good fortune
Helps heals the aura and reveals the truth
Clears mental clutter, enhances thyroid function, stress reduction
Great for the mind, understanding ideas and complex ways of thinking
Reveals the simplest route through our path and allows us to tackle it with confidence
Extremely emotionally supportive and an aid in cleansing your etheric field
A stone of equilibrium; it will help to shift outwardly energy back
Highly spiritual, helps with spiritual development and access the angelic world
Helps to adjust to higher state of awareness and raise our consciousness and feel great stillness and peace of mind
Weight Approx: 210g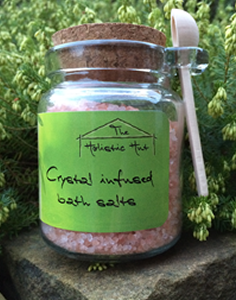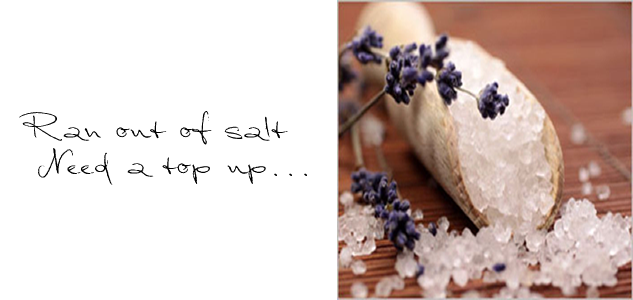 Crystal Infused Bath Salts - Refills

Handmade using a unique blend of synergy in the form of flower and tree essences with their own individual life-force energy, hydrosols* (floral fragrant waters) and charged with the vibrational properties of crystals and colour specially selected for their healing properties, to help evoke a relaxing mood and harmonious atmosphere.
These specifically blended sprays release stress and negativity that can accumulate in our aura, homes and work places. These energies can deplete our own energy preventing us from feeling at our optimum. 
The combined vibrational energy of all signatures create a transformational nurturing and support us mentally, emotionally, physically and spiritually.  As the combined energies flow a feeling of calm, cleansing or focus occurs, depending on your choice of spray.     
Rejuvenate  -  Cleanses you, your environment and even your crystals
Sense-ability!  -  Awakening your senses by grounding your energy
Ancient Wisdom  -  Protects your aura by transmuting any negativity
Aurora borealis  -  A rainbow coloured shower to keep your aura vibrant
Nature's Expressions  -  Reconnect to nature's elements
Use to:
• Clear stagnant and imbalanced energies from your energy field (aura)
• Refresh and cleanse your environment - house, office, car
• Restore calm and order
• Balance and harmonise your surroundings                            
To use: Spray a light mist above your head and allow the fine mist to descend down through your aura and integrate the energetic signature of the spray. The delicate aroma will arouse your olfactory and skin sensations, gently uplifting your energy and allowing you to experience a momentary sense of tranquillity.
Each spray is suitable for all and has its own subtle unique scent.
Store: in a cool dark place, away from children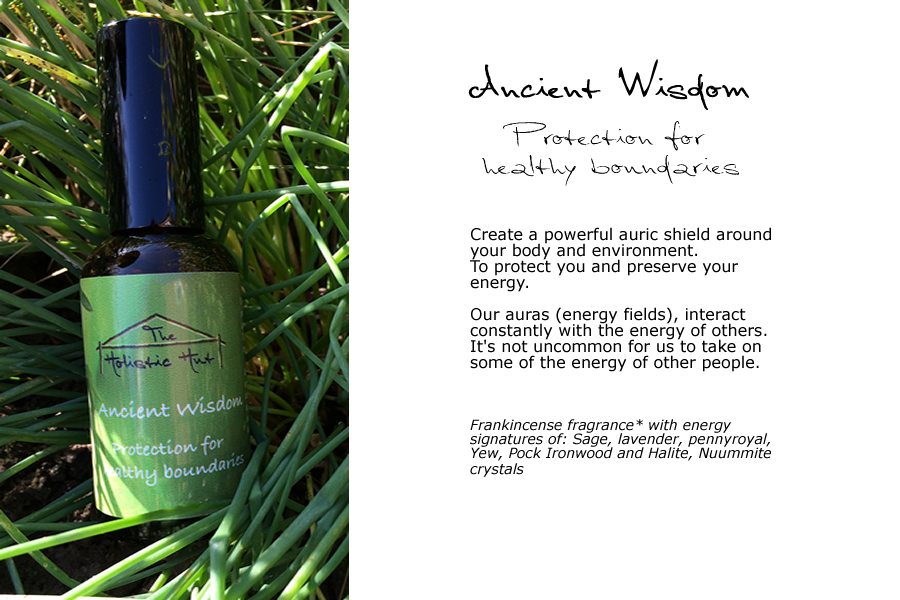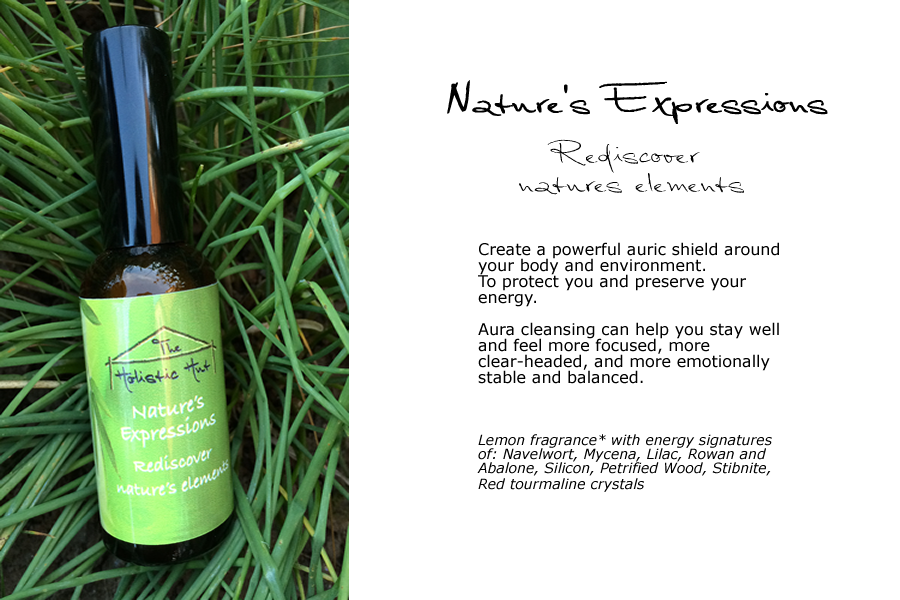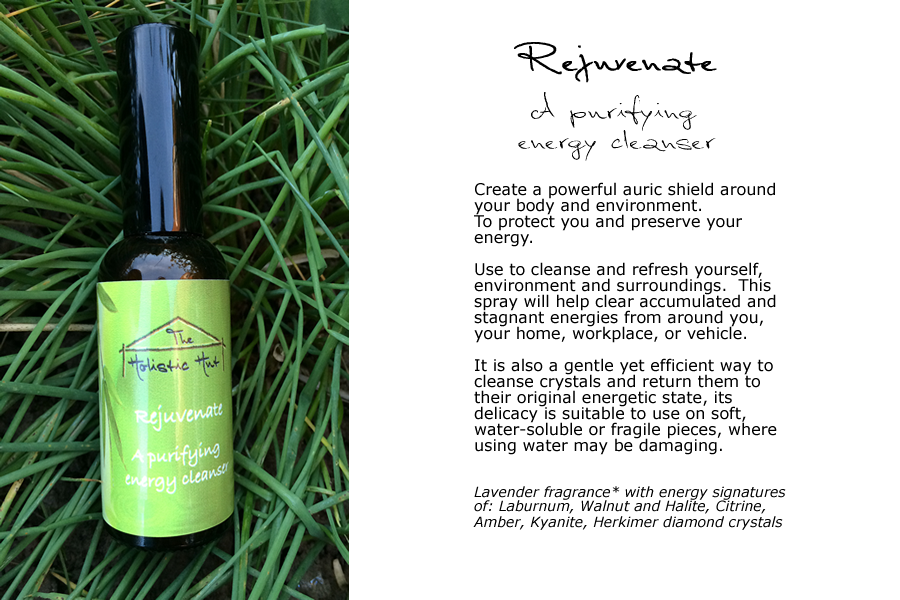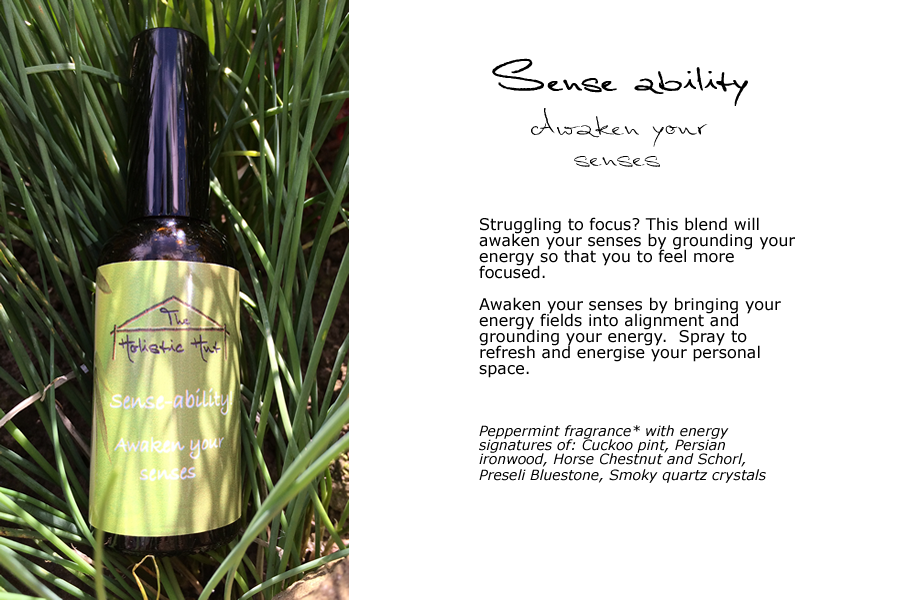 *Hydrosols are fragrant waters from the production of essential oils.  They contain minute amounts of the essential oil yet all of the therapeutic compounds of the essence and power of the plant, but in a milder, less concentrated form than their counterpart essential oil.  This makes them more suitable for a variety of uses as they are clothing safe, non-furniture marking, hypoallergenic and pet safe.
Caution!
Do not spray near eyes and do not rub your eyes after spraying.  All essential oils, even when diluted, will cause stinging if they get into the eyes.
If the product gets into the eyes, immediately flush the eyes with clean, warm water. If this does not alleviate the stinging and irritation then seek Medical Assistance
Keep out of reach of small children

Aura sprays with three corresponding tealight energy candles. These handmade natural soy wax candles are enhanced with the properties of the spray they represent.
As the candle burns, they slowly release the unique properties contained in the spray with their blended synergy (life-force energy) and specific vibrational properties.
Presented in a beautiful (recyclable) jute gift box






These tealight chakra candles are hand made with natural soy wax infused with a corresponding chakra crystal gemstone and enhanced with the therapeutic properties of essential oils.  They are coloured and lightly scented according to the chakra they represent.
These energy candles combine metaphysics with aromatherapy.  What makes these chakra candles special is that they are enhanced with essential oil blends selected for their aromatherapy benefits relative to balancing each chakra.  As the candles burn, they release beneficial vapours that gently assist with balancing, activating or healing your chakra centres
Please remember that when burning candles, the scent throw is determined by both the amount of fragrance contained within the candle and the size of the pool of melted wax created. So a small candle, such as a tea light, will not have the same fragrance throw as a larger candle.
The benefits of soy wax are:
It is 100% vegetable, made from pure soybean oil
It burns longer and more cleanly than paraffin wax without soot build up
It is natural, biodegradable and free from pesticides and herbicides
It is produced without genetically modified material
It is easy to clean up with soap and hot water, eliminating the need for solvents
It is not subject to animal testing
It is a renewable, sustainable resource
How to Use:
When burning your candle for the first time, it is important to create 'its memory burn' to do this allow the candle to burn until the top of it has a full melt pool of wax (completely liquid).  This is because soy wax has a 'memory' and it will help it avoid 'tunneling' down the centre of the container which may cause you not to get the best scent throw. 
The natural wick is self-trimming and made to curl slightly when burning.  If a mushroom appears at the top of the wick, extinguish it and let cool and trim the wick to 1/4" and re-light the candle.
Soy wax has a lower melt point so please keep your candle out of direct sunlight as this may cause it to 'sweat' (little vapour bubbles to appear on its surface).  If this happens, simply wipe the surface with a tissue. 
Candle Safety
A lot of enjoyment can be gained from burning candles however unless they are used safely and watched carefully they can be a fire hazard. For your optimum enjoyment, performance and safety please take a moment to read all the following safety information.
WARNING! Never leave a burning candle unattended.
WARNING! Burn candle out of the reach of children and pets.
WARNING! Do not burn candles on or near anything that can catch fire.
Remove all packaging before use
Always place candle in a holder and place on a heat resistant and non-marking surface
Burn only on a flat surface and protect surfaces which may be damaged by heat or dripping wax
Keep wax pool clear of matches and other debris to avoid flaring
NEVER move when lit, extinguish & allow wax to set
Light candle with a long match or specialised lighter to avoid burns.
Keep the wick trimmed to 6mm
Do not burn on a television or other warm place
If enlarged or second flame occurs extinguish candle immediately.
If a candle smokes excessively, extinguish, allow to cool, trim the wick
Do not allow debris to fall into the wax pool or container
Make certain the candle is upright in the holder before lighting and in a holder that cannot fall over easily
Once purchased any candle safety becomes the responsibility of the purchaser

These Chakra Candles are ideal for use in sacred spaces, for meditation, chakra realigning / rebalancing and to create a warm and relaxing environment. 
A set of seven bright coloured 100% pure soy wax tealights. The colour shades correspond with the seven chakras. Approximate intermittent burn time is 3-4 hours per tealight. 
Candles include: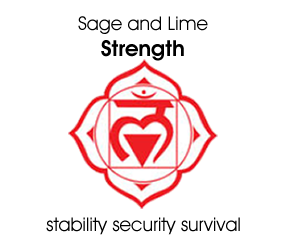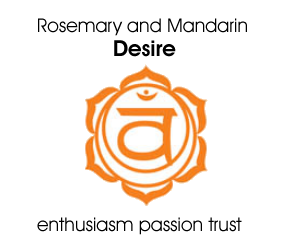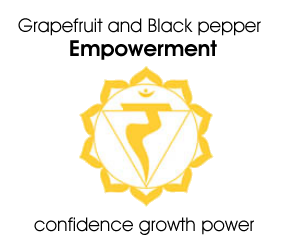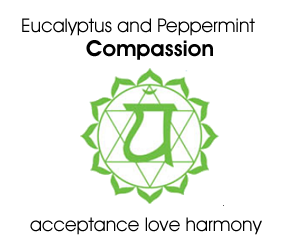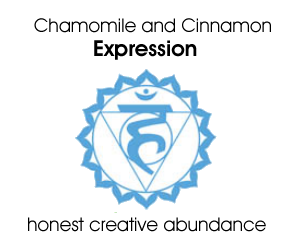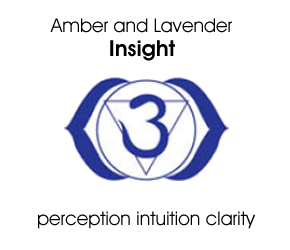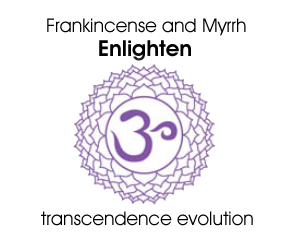 Crystals have their own unique energies which help realign and balance the Chakras. This beautiful Chakra Healing set will help you do this yourself.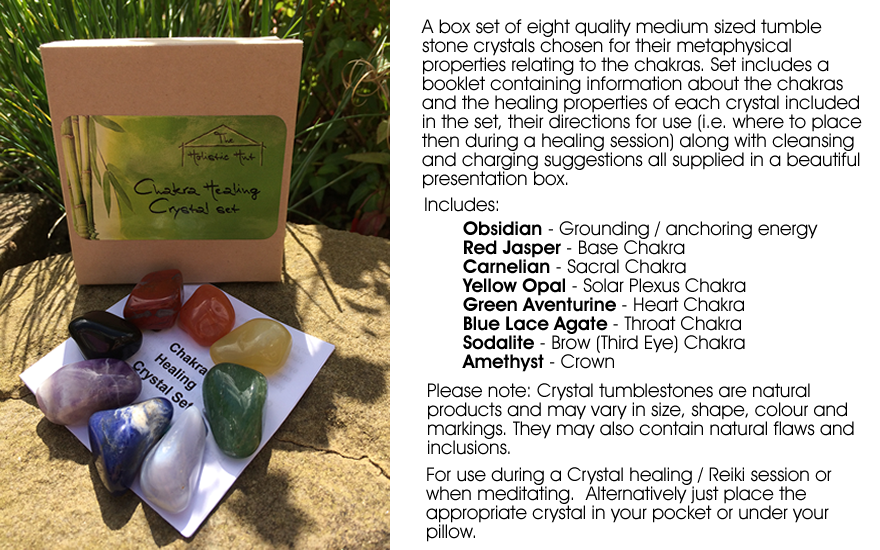 Gorgeous little bags to pop under your pillow and help relax you into a gentle sleep state.
Do you have trouble sleeping?  How is your sleep impaired?  Establishing the cause is the first step. Is it due to dreams or nightmares?  Feeling stressed? Waking early or during the night? or not being able to get to sleep until the early hours? are only a few reasons.
But a lack of sleep can start a domino effect that may end up influencing many areas of our lives: concentration, relationships, weight issues, emotional wellbeing, decision-making to list a few.
These little sleepy pillows combine lavender with a sprinkling of miniature crystals specifically selected for their metaphysical properties that offer relief to the underlying issues that can disrupt our sleep.
Which is best for you…                      










Distance healing crystal therapy session
Crystal therapy session with crystal layout
Distance healing chakra balacing
Distance healing chakra balacing session with crystal layout


The Holistic Hut gift vouchers are a perfect gift for all occasions.

Why not treat someone special to a holistic treatment such as a rebalancing kinesiology session or a relaxing crystal session, or any other of our therapeutic treatments offered.
Gift vouchers can be purchased for specific treatments or for a money amount, the choice is yours.
They can be purchased online or in person, and sent to either yourself or direct to the voucher recipient.
Holistic Hut gift vouchers are a perfect gift for any occasion.
All vouchers will be posted first class within 3 working days of purchase.
Gift Vouchers can be purchased in £5 or £10 increments and are valid for 6 months from the date of purchase.
(Please see the vouchers terms and conditions here »)
Disclaimer: The metaphysical and healing properties outlined are for inspiration and reference only.  In no way are they meant to replace medical diagnosis or treatment.
Deliveries - Postage & Packing
P&P is £4.99 regardless of order size
UK orders only. Please ensure that the delivery address is somewhere where there is someone to accept the package as a signature WILL BE REQUIRED unless you have previously stated you are happy for the parcel to be left in a safe place. The courier will leave the package in a safe place ONLY IF you add this information when placing your order. If you would like your package to be delivered to a different address (work etc) please enter this information when ordering.
If you are not in the accept delivery, the courier will leave a card for you contact to rearrange delivery.
Reasons to shop with us:
We donate 1% of all sales to charities
We support Fair Trade practices
We recycle
View what you currently have in your cart here:
(Please see our Shop terms and conditions here »)